3 Line Conference System - Mumbai
Friday, 25 November 2011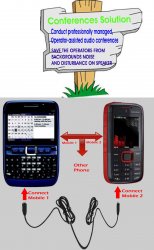 Item details
City:
Mumbai, Maharashtra
Contacts

amchowdhry

02228768573
Item description
3 Line Conference System devices replace a phone's own speaker and microphone capability in a phone call. A conference kit contain both a speaker and a microphone to allow cellphone users to use their cellphone while talking.
3 Line conference system services. Connect 3 line conference system mobile1 to mobile2 device. Mobile1 is user communicating to other person. Mobile2 user can Listen and entrap in communication. Pressing mute button key. 3 line Conference calls can be designed so that the mobile1 user calls the other celll phones participants without knowing them to mobile2 is here the word. While mobile1 is call to other participants mobile2 is on conference if put the speaker on. other participants catch the mobile1. So best solution to use the 3 line conference product.
Description about product.
Mobile1 calling to his other participant mobile2 can here the sound and entrap the call. Pressing mute button key. With help of 3 line conference system
3 Line conference gives Clear voice, clear sound
Join audio conferences as a participant or leader
Save your participant from Background noise and disturbances
Long cable wire it capturer the distance.
FOR ANY FURTHER ASSISTANCE, FEEL FREE TO GET IN TOUCH WITH US
CONTECT US AT:
SPY INVENT, 3-A, OSHIWARA INDUSTRIAL CENTRE, OFF LINK ROAD
GOREGAON(W), MUMBAI-400104, MAHARASTRA-INDIA
TEL#.:28768573 MOBILE:9820398464
E-MAIL:- spyinvent@gmail.com
Website : www.mysafetysolution.com
or meet personally :9:00 a.m. to 6:00 p.m.