Hanger, space saver, space saving hanger - Mumbai
Tuesday, 12 June 2012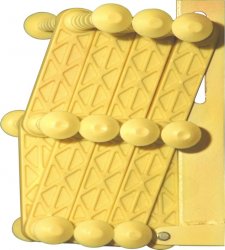 Item details
City:
Mumbai, Maharashtra
Contacts

sailendra baliga

9819753112
Item description
Hanger, space saver, space saving hanger
The Hanger is a new invention (Patent Pending), it overcomes shortcomings of existing hangers, offering multiple pegs, to hang wet or dry garments or objects. It occupies minimal space ~ while allowing the device to be extended, for convenience of viewing, retrieving and placing clothes or objects.
Hang 20 clothes / objects on one hanger.
The invention can take a dead weight load of 22 kgs.
Tangling of clothes or objects is avoided, as every level of pegs below is of a shorter length.
It has a tendency to remain closed, as it angles upwards when pulled open ~ thereby will remain in the closed position, by sheer gravity.
It offers an option for drying clothes, within the home - avoiding ugly strings outside the home or across the ceiling.
Another option is that it is easy to detach the device, and relocate it. Example, after wet clothes drip completely in the washroom, to its scheduled location.
Yet another option of the present invention, offers 'snap-on' hooks for the lowest pegs, enabling traditional hangers to be placed thereon. This is an "add-on" accessory, and can be ordered if desired.
Price-375
Specifications :
Net Weight- 1.2 kg.
Height- 28 cms. ( 11"
Width- 20 cms ( 8"
Depth- 16 cms ( 26"
Depth OPEN: 66 cms ( 26"