Ultimate Corporate Training Company - Mumbai
Tuesday, 21 November 2017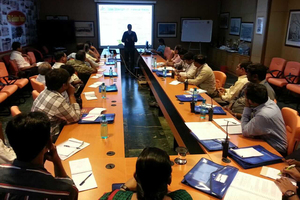 Item details
City:
Mumbai, Maharashtra
Contacts

Amin Badu

08689830000
Item description
Marcep Inc. is a division of Marcep Group which has a JV with some of the major projects over the world and has entered the Asian market in sharing knowledge to the industry.
•Marcep Inc. is one of the top corporate training companies in Mumbai as well as Pan India
•Marcep Inc. vision & mission is to give corporate level training for day to day knowledge up gradation for those who wants to be the best in various industries worldwide.
•In modern era of industrialization, the technology is growing rapidly at an alarming rate which was never seen in this era of mankind. Every day innovative ideas and inventions by genius people are bringing revolution due to their passion in their respective field, who wants to achieve their goals fast with fastest and safest ways.
•Marcep Inc. brings training needs from all the various sectors which initiates from the scratch and conclude to the finest level. Success to you is not only to adapt but to implement which would be your only strength that helps you to compete in this modern world.
•Marcep Inc. trainings offer you & to your company strong foot prints in front of your competitor as well as improve your corporate standards.
•Marcep Inc. provides you with cutting edge short term courses for all verticals i.e. HRD, Technical trainings for Mechanical, Electrical, Civil, Process, Instrumentation, Pharmaceuticals etc.
•Our motto is to bring new horizons in the world of corporate training where your personnel's to crack and get the in depth knowledge with latest strategies this concept makes Marcep Inc. a unique brand worldwide.
•The recent studies indicate that there are so many officers who are completely unaware about the modern trends and technologies in industries which make them comparatively low in their proficiency.
•Marcep Inc. is full of energetic and innovative ideas that blow up your mind with leading & successive practices.
•Maintainability & Reliability Certified Engineering Programs
•Our CEO commenced his journey along with a handful of contractors as a consultant for various Indian industries. He initiated his work from scratch by visiting manufacturing facilities of various sectors to meet the requirements of their ever-increasing demands. He helped in improving the mechanical integrity of their valuable assets and how to safeguard them with a proper strategy and procedure.
•Over time, it was apparent that even though the engineers were working efficiently, there was still room for improvement.
•It was important to stay up to date with current trends of modern engineering. There was a need for standardized guidance and training.
•He realized the importance of knowledge combined with a small idea that 'learning is like electricity which always gives you power to do more'. This idea led to the genesis of Marcep Inc. with a vision of bringing people together using the power of knowledge, helping our country grow.
•Our CEO is an icon who always tries to bring change, which energizes our infrastructure with positivity. Our company strongly believes in maintenance and sustainability of value, trust and a good standard. We do this by providing specialized technical programs to our esteemed clients across Pan Asia. Our employees are assets who keep working at a fast pace around the clock.