Beauty & Hair Treatments - Mumbai
Friday, 1 March 2019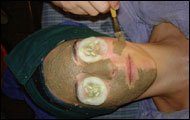 Item details
City:
Mumbai, Maharashtra
Contacts

Ajit Kalloor

9820807915 / 9820807917
Item description
In the age of cosmetic surgery where looking good and feeling great is the enduring ambition worldwide, Dhanwantri Kerala Ayurved brings to you nature's own pill for rejuvenation and revitalisation. Beauty Treatments at Dhanwantri are meant to enhance, develop, nourish & maintain your beauty, skin, hair & personality. Each one of us have become aware of the lasting and long-term benefits of natural ingredients as compared to the short term and side effect-prone results produced by hazardous chemical ingredients. At Dhanwantri we have developed special formulations and Panchakarma therapies to cater to the needs of every stage of our life. When the intestines are regularly cleaned, the body does not become overloaded with digested material that would otherwise seek elimination through the skin.The therapy procedures have been designed by keeping this basic fact in mind. Developed and perfected through years of experience, these holistic techniques confer beauty and grace. In the Ayurvedic tradition, regular Abhyangam (oil therapy) is considered just as essential to overall health and beauty as, good diet and positive lifestyle. An Ayurvedic facial activates deep centers of the brain, reflex points and facial circulation to totally soothe the senses. Tensions in the neck, shoulders and face are freed and energy is rebalanced from head to toe.
FACIAL ~ Ayur / Sandal / Glow-An authentic ayurvedic facial of herbal oils, powders, face packs without any chemicals to give a natural glow to your skin.
FRUIT FACIAL -A facial with fresh fruits mixed with herbal oils and face packs. Apart from being rejuvenating it is effective in treating pimples/dry skin.
UNDER EYE TREATMENT -
A face & eye massage done with herbal nourishing creams followed by herbal nourishers & eye packs to effectively remove dark circles & under eye bags.
HAIR TREATMENT -
Is a course of 8,16, 32 or more days as per the requirement. Beneficial for distressing hair problems like dandruff/ hairfall/ graying & is attended with headmassage & medicinal hair masks. These treatments bring luster & bounce apart from preventing hair loss, thinning of hair & dandruff and also rejuvenate the hair follicles.