Ultimate In Luxury Car Seating - Mumbai
Sunday, 19 June 2011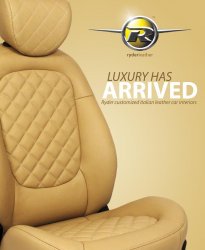 Item details
City:
Mumbai, Maharashtra
Contacts

Imtiaz

+919967759922
Item description
ABOUT
Ryder Leather Upholstery was born in 2003 out of our passion for LEATHER Car Seat. Leather trade being a family business for 4 generations went a long way in establishing RLU as one of the leading Automotive Leather Upholstery manufacturer in Mumbai. Starting with a humble beginning today we boast of one of the best equipments and material in the trade. RLU has a trained team of craftsmen dedicated to their job and treated as a family at Ryder. Our clients include leading car dealers, corporate, celebrities and an endless list of walking clients impressed by our quality of work. Our mission is to create quality, affordable luxurious automotive leather upholstery that appeals to senses and desired by all. Our VISION is to be the leading automotive leather upholstery manufacturer and global brand of choice.
MATERIAL
Discover the COMFORT and experience the ELEGANCE that's LEATHER, the world's most versatile natural product for you. Our Leather before it gets to you is tested for tensile strength, tear strength, abrasion resistance, wet n dry rubbing, sweat rubbing, fogging, finish adhesion, and burn test. PAMPAS Our ITALIAN range of leather as available in over 25 shades to choose from.
TECHNOLOGY
We at RYDER consider Leather Seat Making as an ART. Every piece of Leather has its own distinct character that we strive to enhance and improve upon. We garner the natural beauty of an ageless material "LEATHER" and bring it to you with a promise of flawless perfection. Evert car interior as an artwork for us and it bears testimony of our fine craftsmanship.
GUARANTEE
All leather seat covers manufactured by Ryder Leather Upholstery come with a three years conditional guarantee.