Extending service life of concrete & steel structures - Mumbai
Monday, 27 November 2017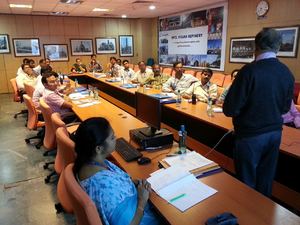 Item details
City:
Mumbai, Maharashtra
Contacts

Raj Khanna

09619046105
Item description
There is a common belief that life of a structure is 100 years. When we see around us, we find that is true in case of some buildings like Chhatrapati Shivaji MaharajTerminus Building (Erstwhile V.T.) in Mumbai. Whereas there are so many other buildings around us which show symptoms of deterioration within 10-15 years of life. Many questions come to our mind in such a situation. What is wrong with our construction? Why buildings deteriorate so fast? Also, there are situations when distress is seen in structure due to various factors like age, chemical attack, earthquake etc. Many times existing machinery needs to be changed to cater modernization needs. In such cases, it is essential to strengthen existing structures to cater for this additional burden.All this calls for handling various issues like structural assessment, NDT, Repairing the distress, waterproofing, Estimating & costing of Repairs & Rehab work etc. In either case, it is inherent to repair & maintain the structures. Many a time it becomes essential to retrofit existing structure to accommodate modern machinery.The annual expenditure on this repairs and retrofitting works in our country is about Rs. 80,000 crores (Eighty thousand crores). It is relatively straightforward to estimate the cost of new construction projects but Repairs is a different game.The estimates if not done properly can go haywire, leading to tremendous cost overruns.The second important facet is to achieve desired results after spending the huge amount of money.This again requires a lot of good insight of repairs operation.The field of Building Repairs is not 100% science. It requires knowledge from many other branches of Geography, History, Architecture, Material technology and so on
The Repairs industry is dominated by construction chemicals industry, who works for promoting their own interest rather than client's interest. In this scenario, it is imperative that executives develop an insight of the whole operation. This will help to conduct the operations with better technical and financial control.
This two-day program will help participants to understand various facets of the Repairs operation, how to control un-necessary expenditure and achieve "value for money" spent.
This 2 days program will address all the facets of Repairs & Rehabilitation.
The benefit of training from a construction repair audit:
•A construction repair audit can help set the tone for the project repair by establishing oversight.
•Involving an experienced construction repair auditor in the contract stage often results in increased savings through cost avoidance.
•Early involvement yields more savings than a stand-alone, closeout audit.
•Your risk and rights under the contract are being protected.
•With a construction repair audit, you look at contract terms, identify overcharges, suggest how to better manage risks and examine your control procedures to make sure they're functioning properly.
•A construction repair audit assures you that the financial piece of the project is being well managed and monitored.